The building of the Praeda Holding s.r.o. company is located in the cadastral area of ​​Bratislava – Staré Mesto, close to Palisády, Štefánikova Street and Hodžovo Square, in a lucrative location near the Presidential Palace in a zone of important administrative and commercial buildings.
Accessibility is on foot, by bus, trolleybus and tram transport, with the possibility of parking directly in the courtyard of the building.
The building has an irregular trapezoidal floor plan with a courtyard in the middle which is used as parking area for visitors; other parking lots are situated in the rear part of the building.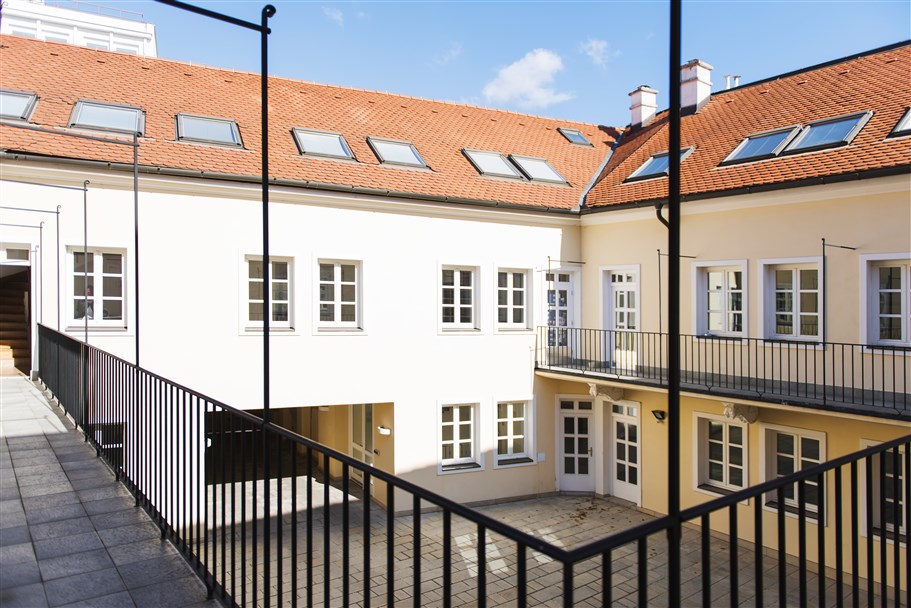 The north side of the building is oriented to Panenská Street, the south side to a neighbouring un-built area. The building has two above-ground floors, an attic and an underground floor.
The entire building is used exclusively for administrative purposes which have all additional functions and operations completely secured.
Basic information about the building:

Land area: 1 246 m2
Lease area: 829 m2
In terms of the categorization of rentable office space, the building is classified in the highest A category, which means that it is located in the centre or in the wider centre, has good access and connection to transport communications, is easily accessible civic amenities, has 1 to 2 parking spaces per 100 m2 of rentable area, a high flexibility of interior space, a modern building management system, heating, cooling, fire protection and elevators.
All tenants have the possibility to use a big conference room in the building´s underground with the capacity of 20 seats that can be used for organizing company events.